Document Type : Original Article
Authors
1 Department of Medical Laboratory Sciences, Faculty of Allied Medicine, Iran University of Medical Sciences, Tehran, Iran
2 Department of Biology, Faculty of Science, Karaj Branch, Islamic Azad University, Alborz, Iran
3 Department of Biology, Faculty of Science, Central Tehran Branch, Islamic Azad University, Tehran, Iran
Abstract
Background: Hypericum perforatum is a flowering plant from the Hypericaceae family. This herb has warm and dry nature based on traditional medicine and includes many healing properties like noticeable effects on mild and moderate depression cases. Cyclophosphamide is used to treat various types of cancers and autoimmune diseases with the side effect of fertility reduction. We studied the effects of hydroalcoholic extract of Hypericum perforatum on the spermatogenesis process of cyclophosphamide-treated male mice.

Methods: In this experimental study, 70 adult BALB/c male mice weighing 26-28 g were randomly divided into 7 groups of 10, including, a control group (no injection), a sham group (normal saline), and three experimental groups which were treated with 5 mg/kg body weight of cyclophosphamide and also, doses of 50, 100, and 150 mg/kg body weight of hydroalcoholic extract, respectively. In addition, a cyclophosphamide group (5 mg/kg body weight) and an extract group (100 mg/kg body weight) were evaluated. All the injections were performed intraperitoneally for 10 consecutive days. After two weeks, blood samples were collected for a testosterone level examination. Testes and epididymis were removed for tissue sectioning and were stained with the H&E method. Data were analyzed using one-way ANOVA and Tukey post-hoc test.

Results: Results indicated that taking 5 mg/kg body weight of cyclophosphamide decreased mouse and testis weight and had a detrimental effect on the spermatogenesis process in the way that spermatogenic cell counts, and seminiferous and epididymis tubules diameter were decreased in comparison with the control and sham groups. But 100 and 150 mg/kg body weight doses of the extract with 5 mg/kg body weight of cyclophosphamide showed a significant increase (P≤0.05 and p≤0.01) on the mentioned parameters compared to the positive control group.

Conclusion: Therefore, it seems that the main component in this herb such as hypericin could decrease the detrimental effects of cyclophosphamide on mouse fertility.
Graphical Abstract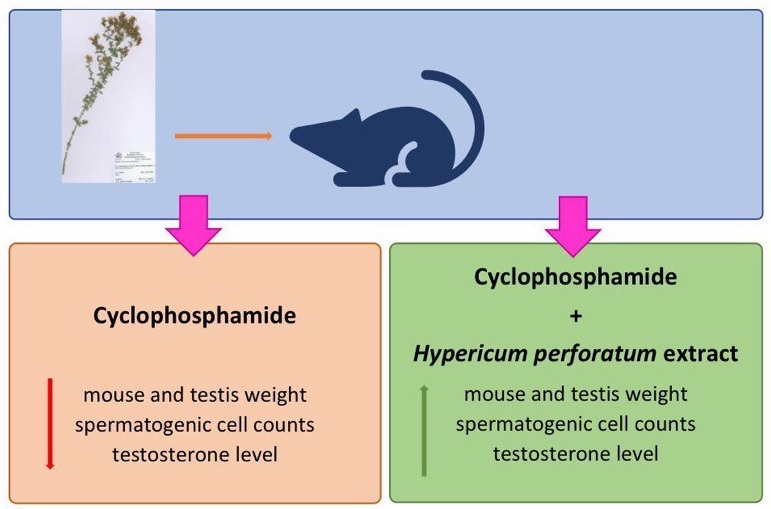 Keywords
Main Subjects